Sheet Styles - A Free Google Sheet Add on by Better Sheets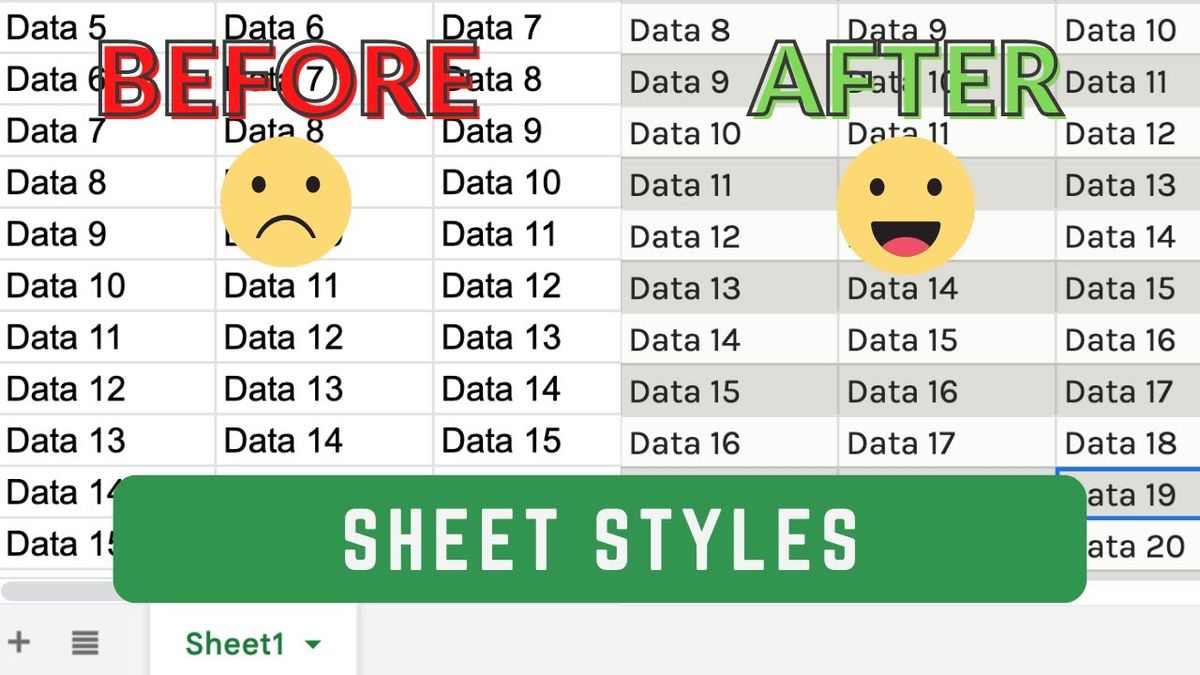 The point of Better Sheets is to make your life in Google Sheets better. Quite specifically, you should enjoy your time in Google Sheets. You should feel confident. You should feel like you have a control over Google Sheets and that you don't get lost inside of Google Sheets.
I wanted to introduce you to sheet styles by Better Sheets. It's a completely free Google Sheet add-on and it's available right now! You can go download it if you go check out Bettersheets.co products.
I wanted to introduce this to you because it's a completely free Google Sheets add-on. Go to Extensions --> Sheet Styles --> Show sidebar.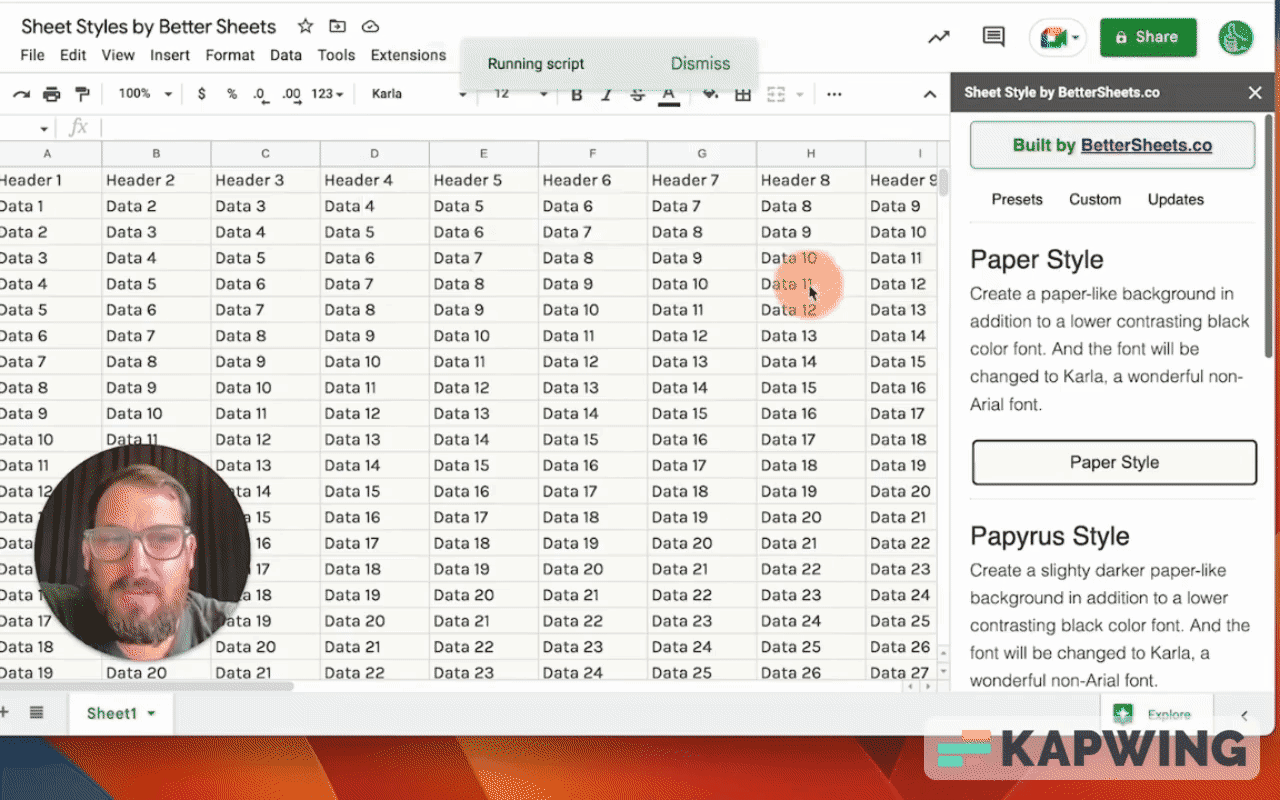 It comes with some presets already. What it does in one click is it will change the background color, the font, and the font color to less contrast immediately.
We also have a few different styles:
Paper style
This is a kind of beige colored paper. It's almost paper background with Karla font and a bit of a less black text color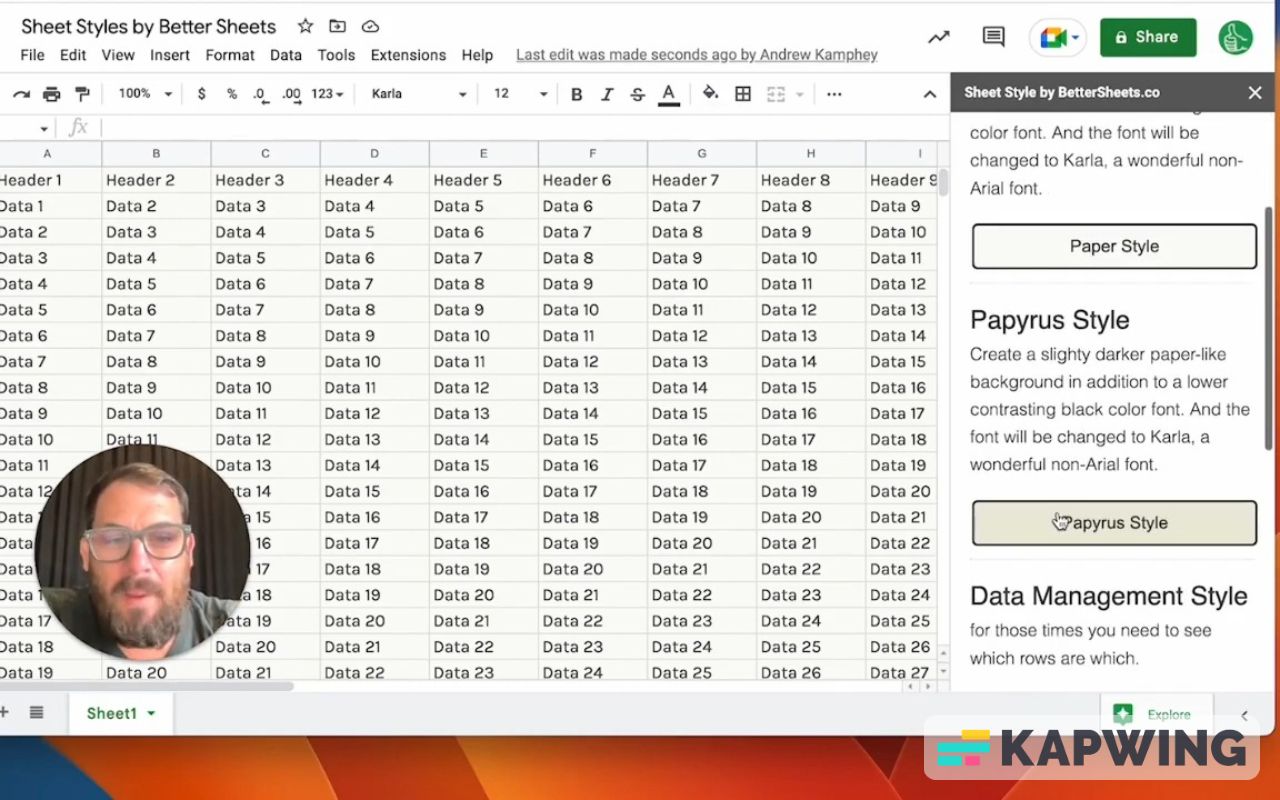 Papyrus
This is for those of you who want a sheet that's a little bit darker, a little bit more brown-gray.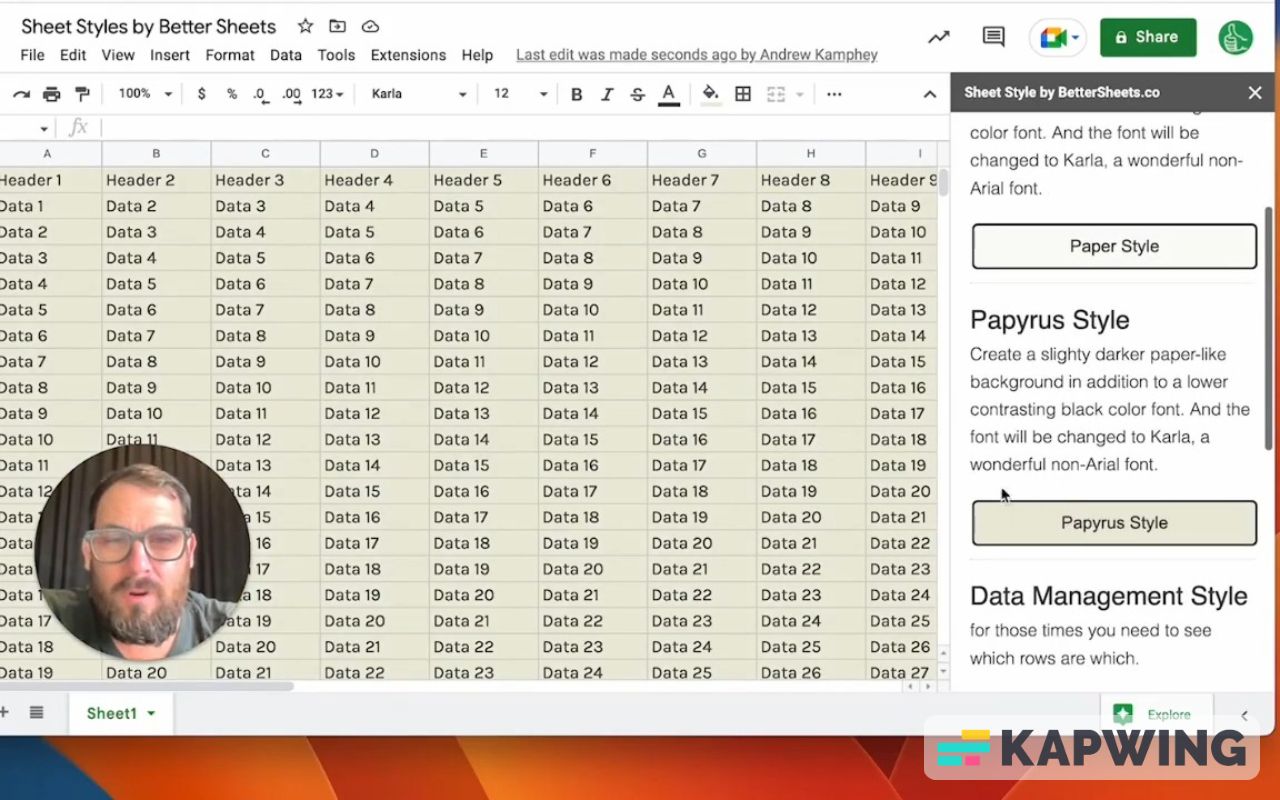 Data Style
If you're looking for a way to see different lines and see the different rows ,we have data management style. It has alternating colors.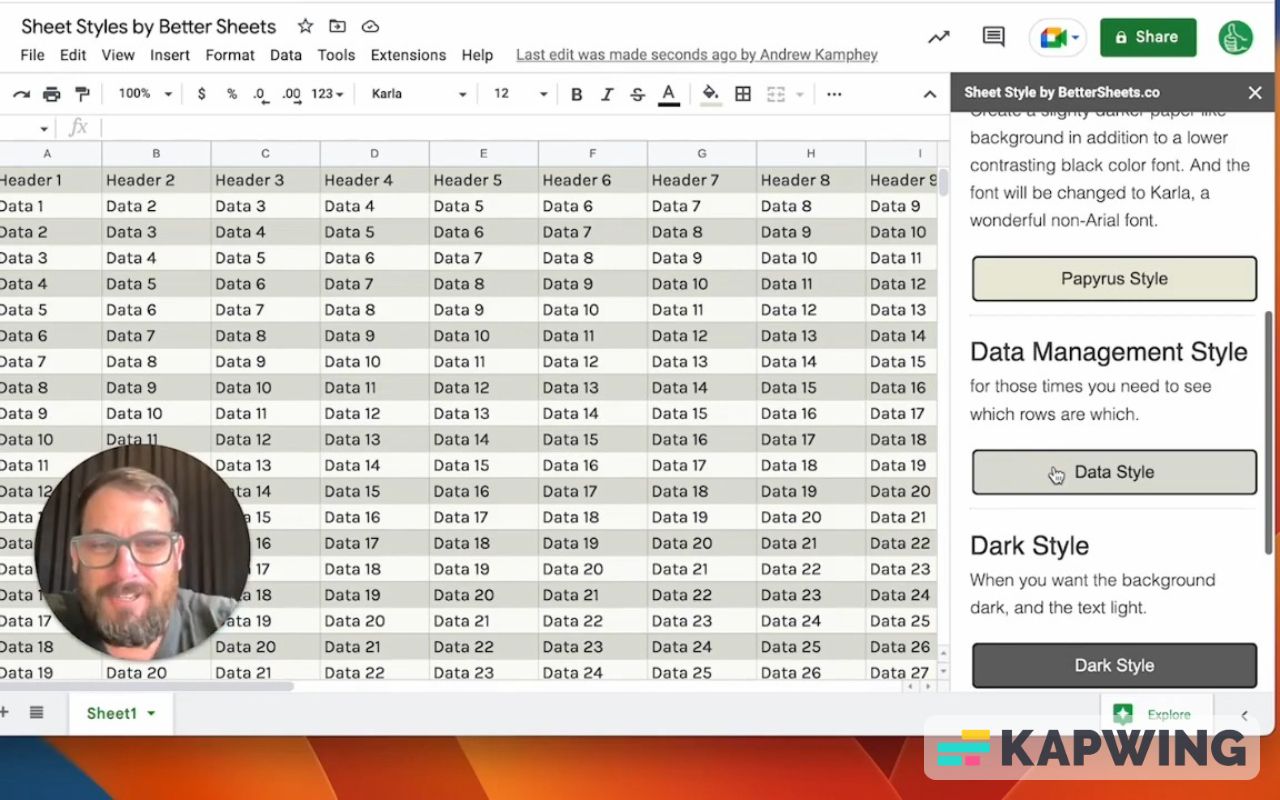 Dark Style
And if you're really into the dark mod. we have dark style as well.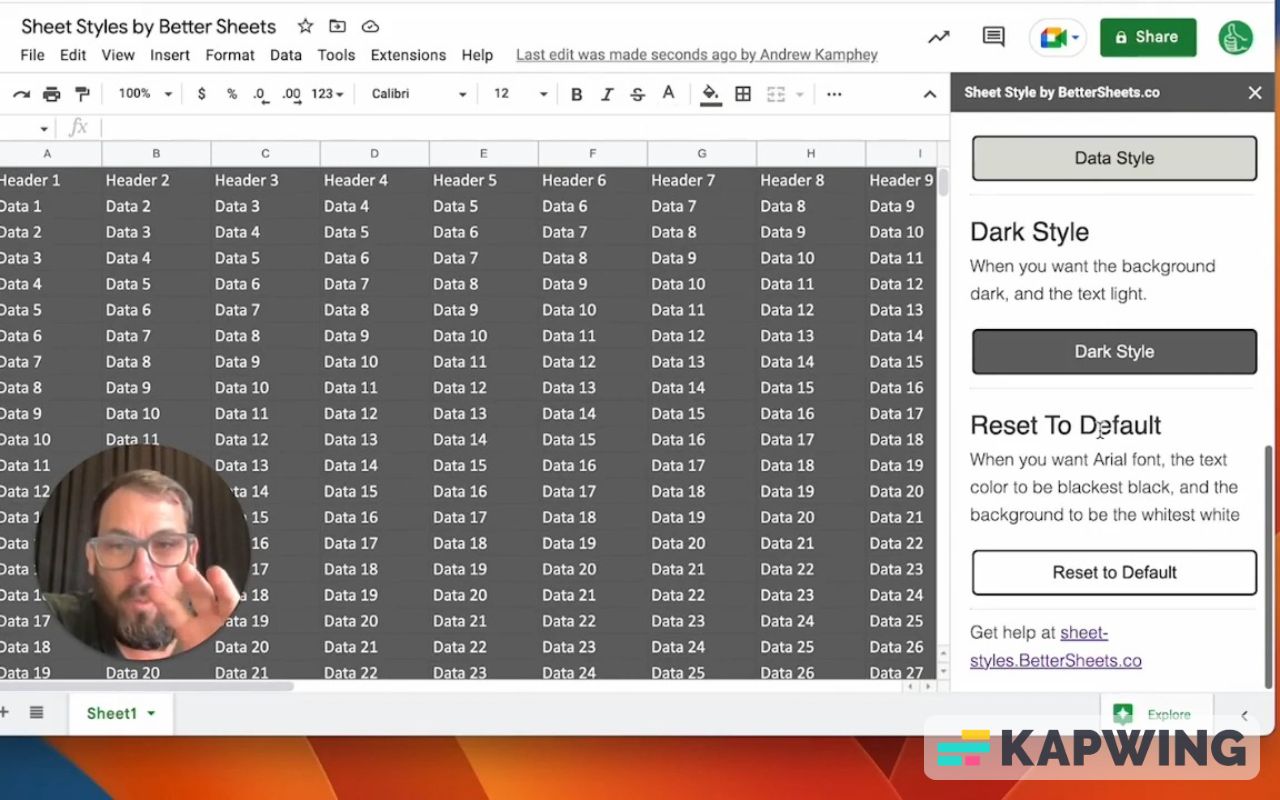 Now if you are working in a Google sheet and you're working on this, using Sheet Styles, and you're like "I don't want my boss to see this." Or you don't want someone else – collaborator, colleague, or co-worker – to work this way. You want to work in your way and they need to work in their way. You can always reset to default and that returns it to Arial font, whitest white background, and the blackest black text.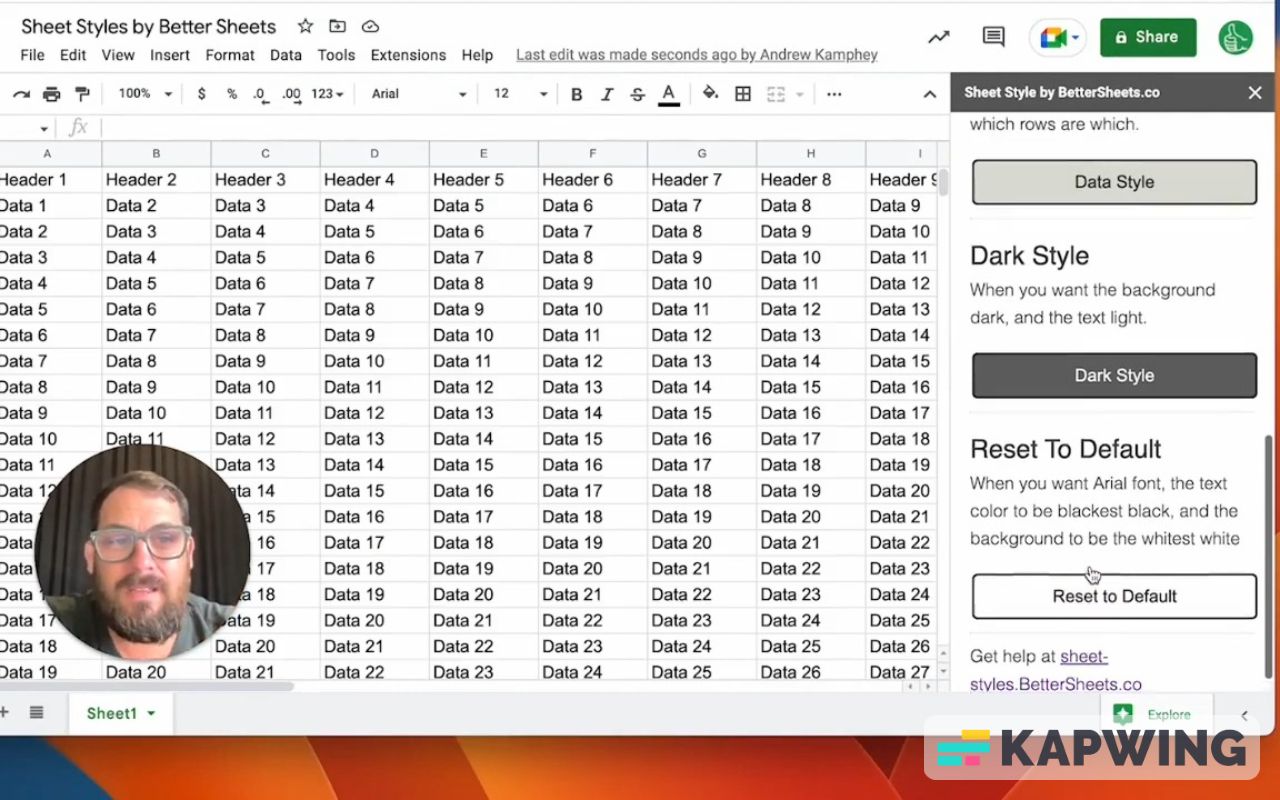 If you don't like those presets, you can follow the steps below:
Click on the "Custom" tab on the right sidebar.
Change the font as you wish.
Select your background color.
Select your font color.
Click on the button, "Set Custom Style."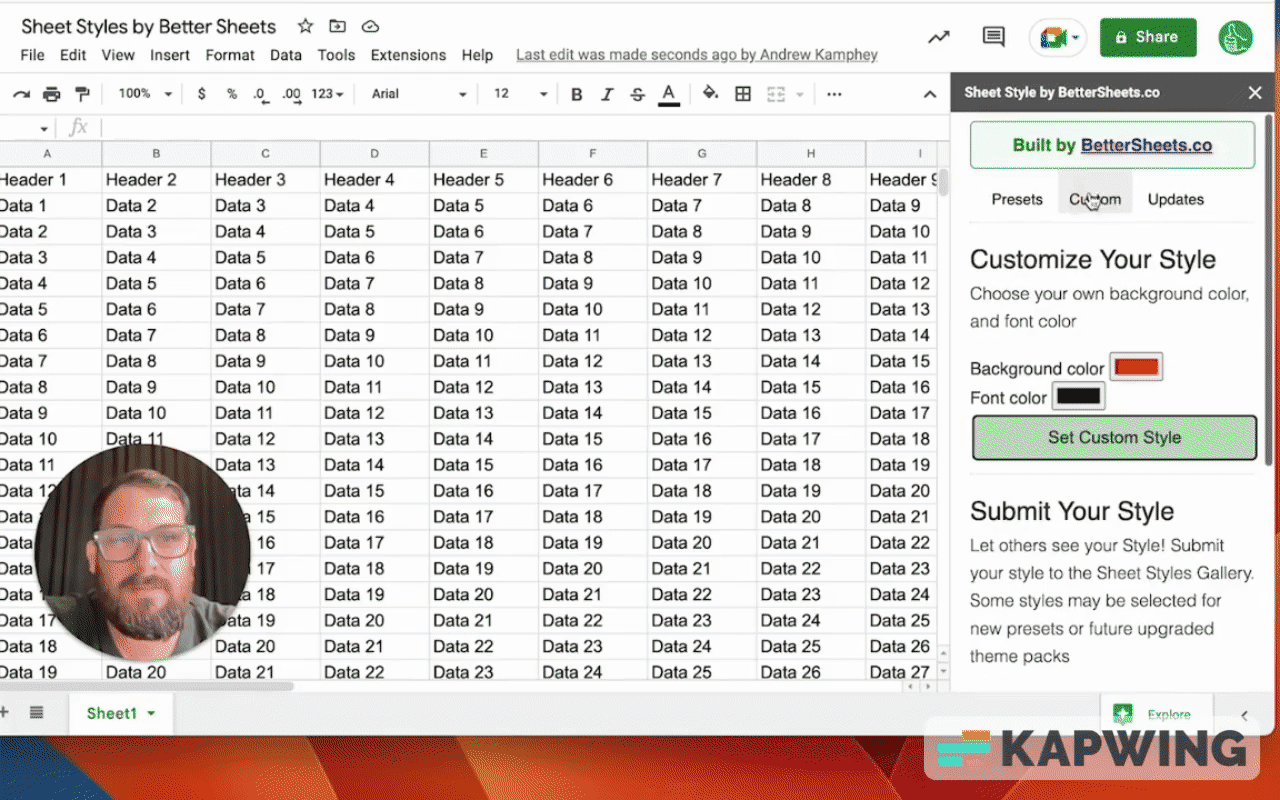 It also changes it to Karla font because I really like it and it's a much, much better font than Arial, at least in my book.
I hope you use Sheet Styles. It's absolutely free!
Watch the video for this tutorial:
Learn more on how you can improve the look of your Google Sheets:
Get more from Better Sheets
I hope you enjoyed this tutorial! If you want to do more with your Google Sheets, I have other tutorials, like how to create a timer with Apps Script and learning to code with Google Sheets. Beginner? Intermediate? There's a lot of tutorials for everybody! Check them out at Bettersheets.co.
Join other members. Pay once and own it forever. You get instant access to everything: All the tutorials and templates. All the tools you'll need. When you're a member, you get lifetime access to 200+ videos, mini—courses, and Twitter templates. For starters. Find out more here.
Don't make any sheets. Make Better Sheets.